Donating via credit card, debit card, or ACH transfer takes less than a minute on the Overflow platform.
Check out this video to watch the whole experience:
Or, read on for a step-by-step walkthrough of the process:
1) Enter the cash giving experience from the organization's website.
Click the Donate Credit/Debit/ACH button to give cash.
2) Choose or enter the amount you'd like to give.
You can either choose a pre-set value or type in a donation amount on the top line. Then click "NEXT".
3) Select contribution information
Choose whether you'd like this gift to be sent once, weekly, every two weeks, monthly, or on the 1st and 15th. Select a campaign and subcampaign if you'd like to designate this contribution for a specific fund or ministry location.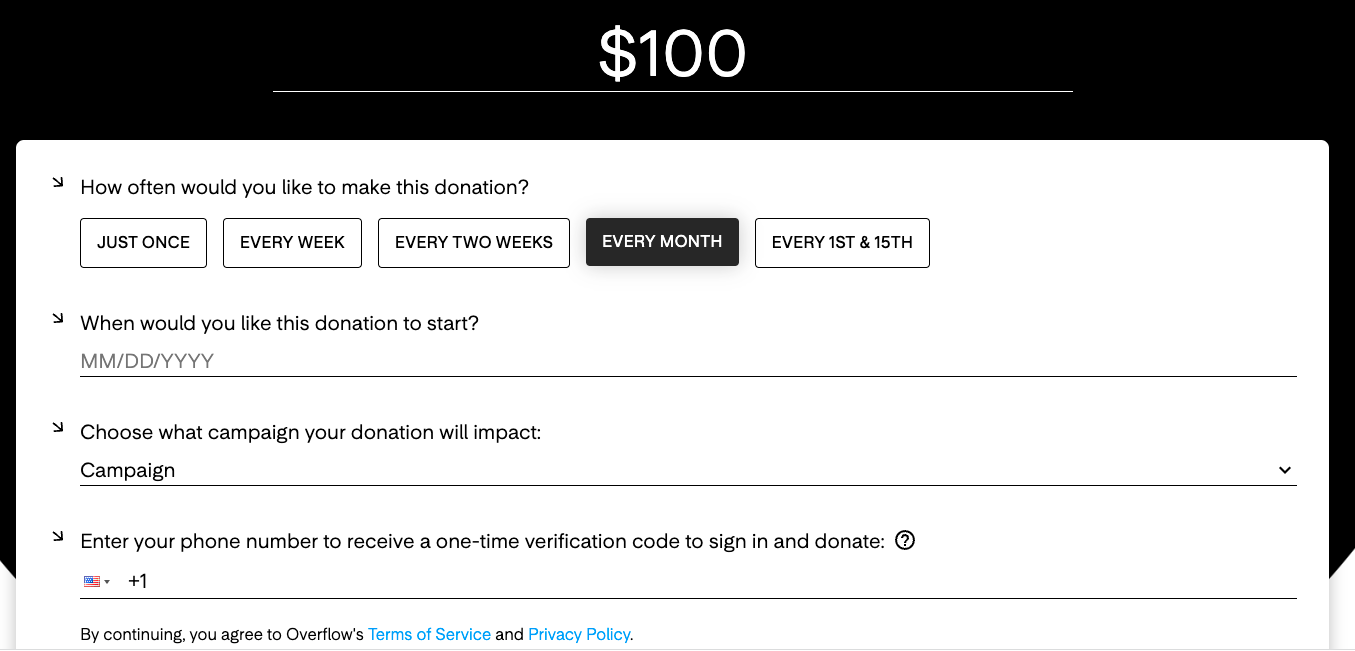 4) Log in using a phone number or email address
Enter your phone number to log in and give. You will be sent a one-time passcode to access Overflow. You also have the option to select "Use Email Instead" if you'd prefer to receive the one-time passcode to your inbox. You will never have to set up a password on Overflow. Your phone number or email address will act as your username for all future donations.
5) Input or select payment method
Enter a new credit or debit card or your bank account or select one that is already on your account.
TO DONATE USING A CREDIT/DEBIT CARD
Select 'New Credit/Debit Card." You'll see a screen appear that allows you to add information for a credit/debit card. Tap "Save" to confirm. Checking "Set as default payment method" will charge all future donations to this card.
TO DONATE USING A BANK ACCOUNT (ACH)
Select 'New Bank Account". A screen will appear to detail how Overflow uses Plaid to securely link to your bank account. (Scroll to the FAQs at the bottom of this article to learn more about Plaid and Overflow's security protocols). Click "Continue" to proceed.
You'll see a range of options to select for your bank. Scroll or search to find the institution with which you bank and click to make your selection. Then enter your online login credentials for your bank account.
6) Decide if you want to give anonymously.
You can choose to remain anonymous by clicking the box "Make this donation anonymous".
7) Give!
Click "Give Now" and enjoy the celebratory moment!
FAQ:
Is connecting my bank account with Overflow secure?
Connecting your Bank Account is secured by Plaid. Plaid provides developers with the tools they need to create easy and accessible experiences for their users. Today, tens of millions of people in North America (and counting) have successfully connected their financial institutions to apps they love using Plaid.
Are my card details secure with Overflow?
Overflow does not have access to nor stores any credit card information. We use Yodlee, a third party provider, that handles the brokerage login process. Over 600 companies including PayPal and Amazon use Yodlee to connect their clients' accounts. Click here for more information on Yodlee's security policies.
Related Articles
How to Set Up Recurring Giving