You already know that Overflow is bringing publicly-traded stock donations into the 21st century...but did you know that we also facilitate Crypto donations?
We are so excited to announce that Crypto is now available as a new channel of generosity! We know that Crypto is on the tip of everyone's tongue these days, and we're fortunate to partner with The Giving Block who has been building & facilitating this technology since 2018.
Like stock giving, Overflow is here to simplify and streamline the complex process of donating cryptocurrency gifts, enabling you to donate your high-value crypto in just a few clicks to Overflow nonprofits that have this option on their giving page.
Check out this video for a quick walkthrough:
HOW TO DONATE CRYPTO VIA OVERFLOW
1. Click the Donate Crypto button on your nonprofit's website. Please note that your nonprofit has to have this option activated for you to give gifts of Crypto via the Overflow platform.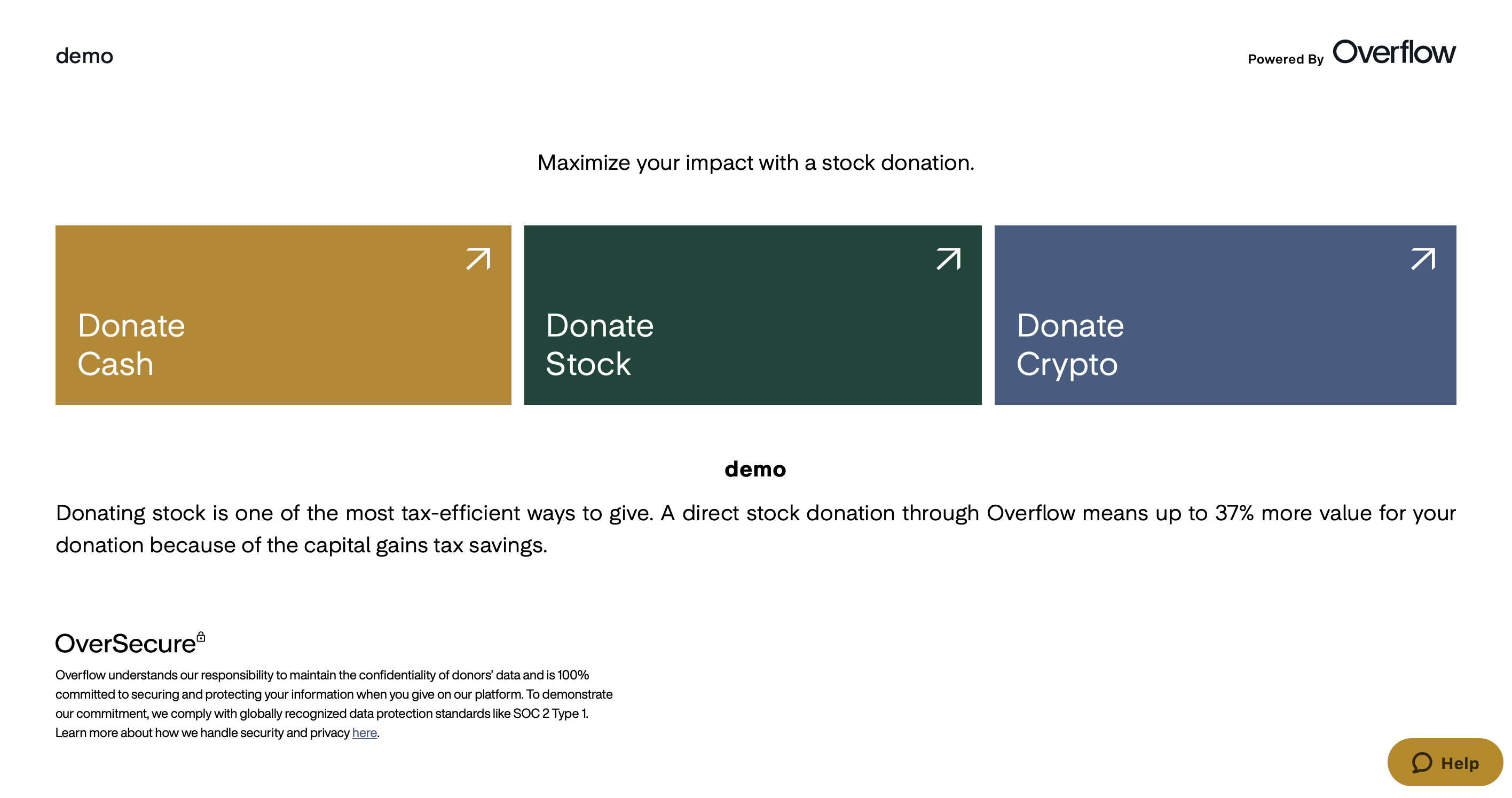 2. Simply enter your phone number or email to receive a one-time passcode to log in. If you've donated through Overflow before, this will connect to your pre-existing account. If you are donating for the first time, you will never have to create a password! Just use the same email or phone number every time and a one-time passcode will be sent to that email or phone number to access your account.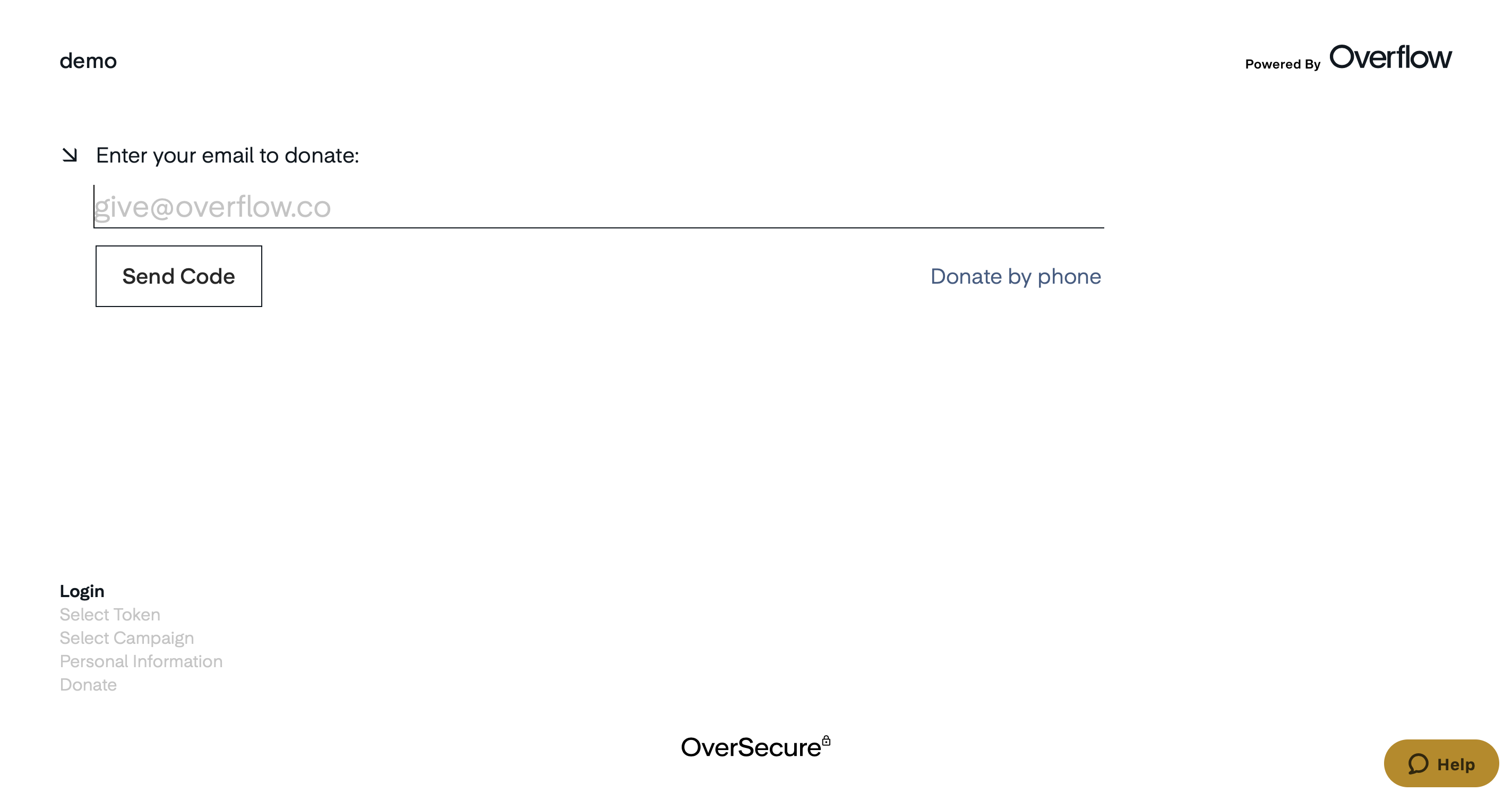 3. Select the coin you want to donate. Overflow offers a multitude of crypto coins. Tapping on "Search Coin" will open the list of full coins. Currently, we only accept coins that are accepted by our partner, The Giving Block.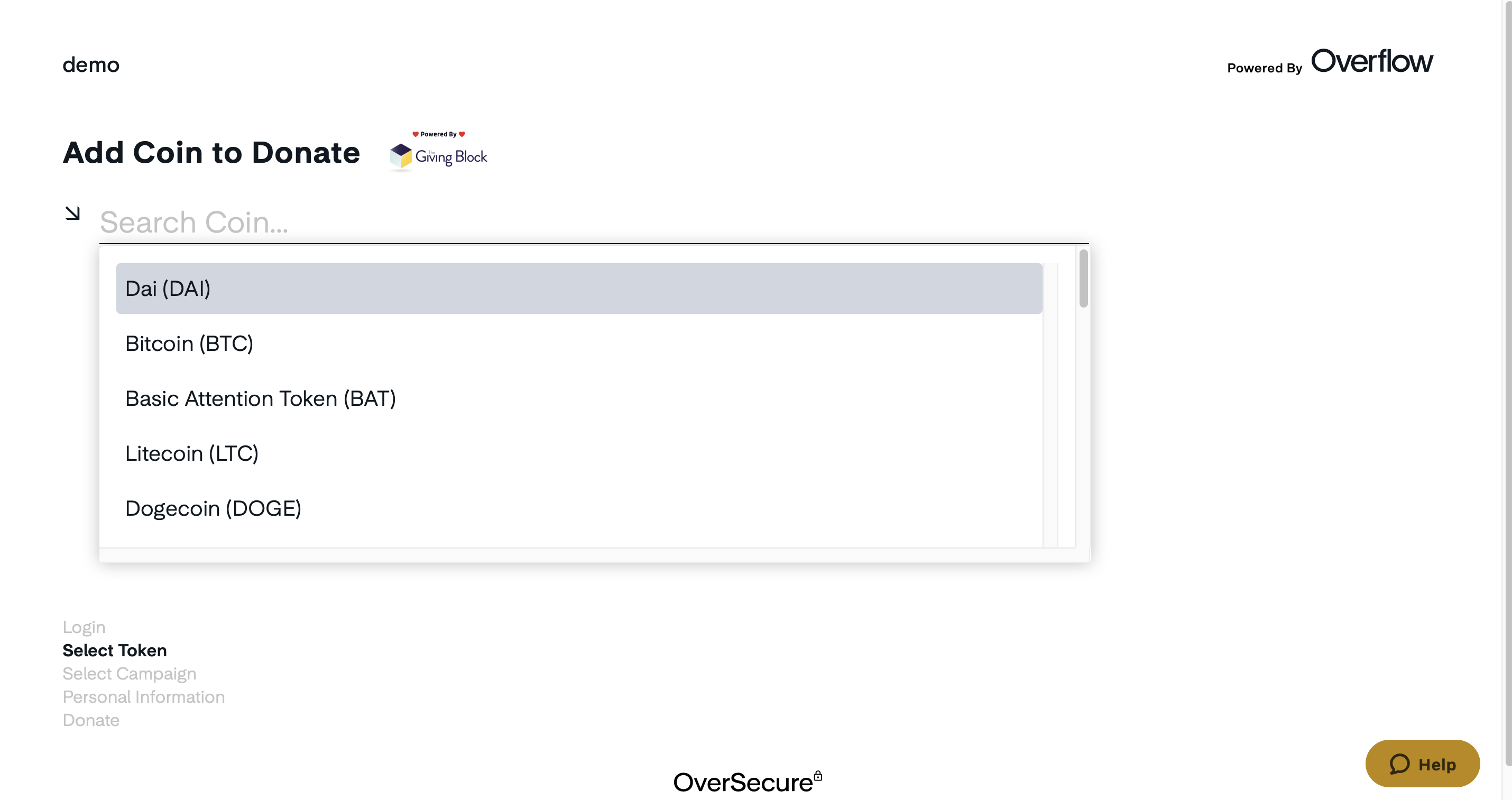 4. Enter the dollar amount of crypto you wish to donate. You can see the market price of your selected cryptocurrency, but we don't expect you to know how many dollars are equal to .0342 ETH for example. To help, simply type in a dollar amount and you'll see what fraction of cryptocurrency this equates to.
5. If the nonprofit has any specific campaigns they are fundraising for, you can select one to which you'd like to give. Simply tap "Campaign" and the drop-down will appear with the options you can select.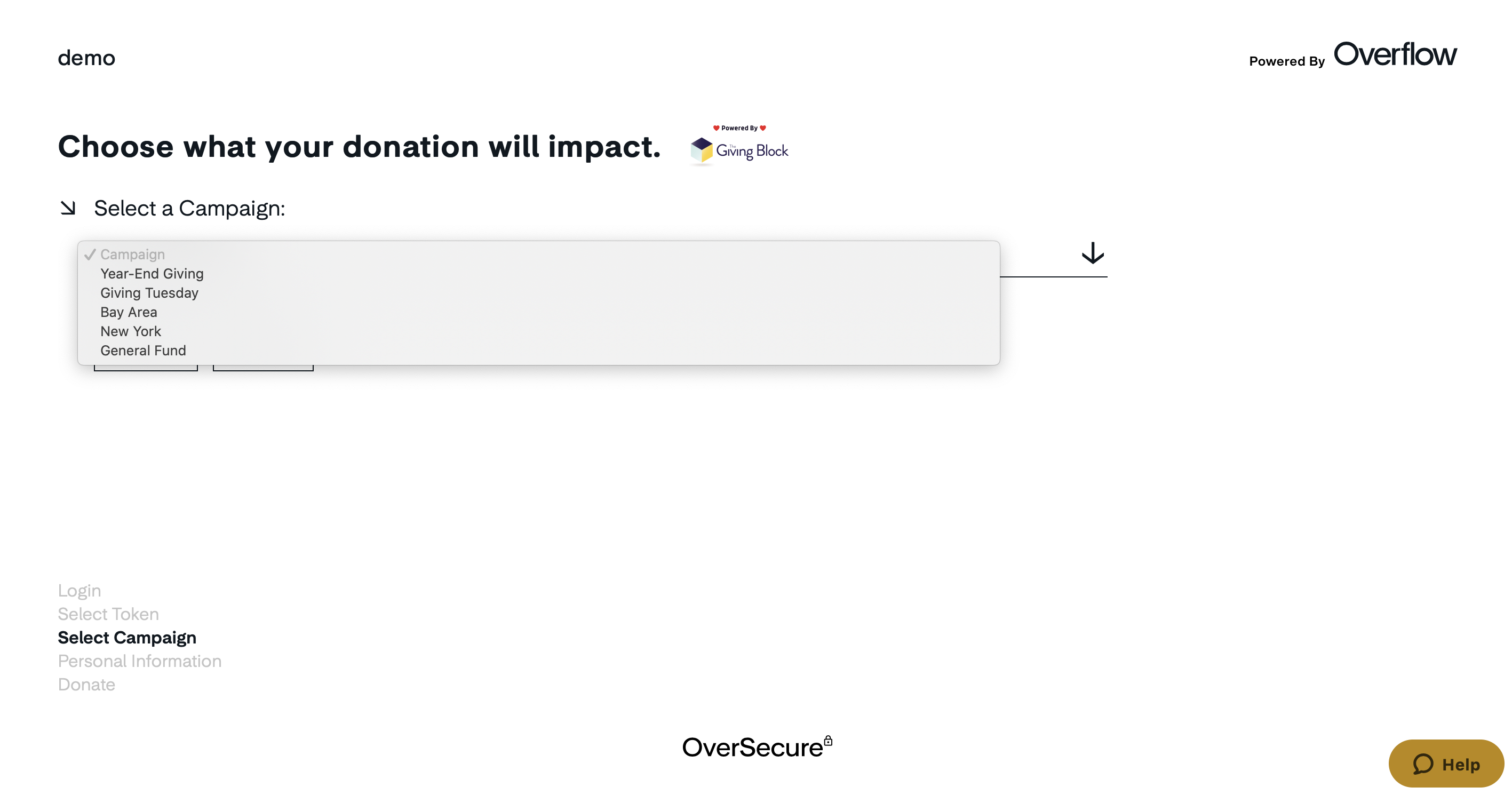 6. Enter your address. Your personal information will allow us to process the donation.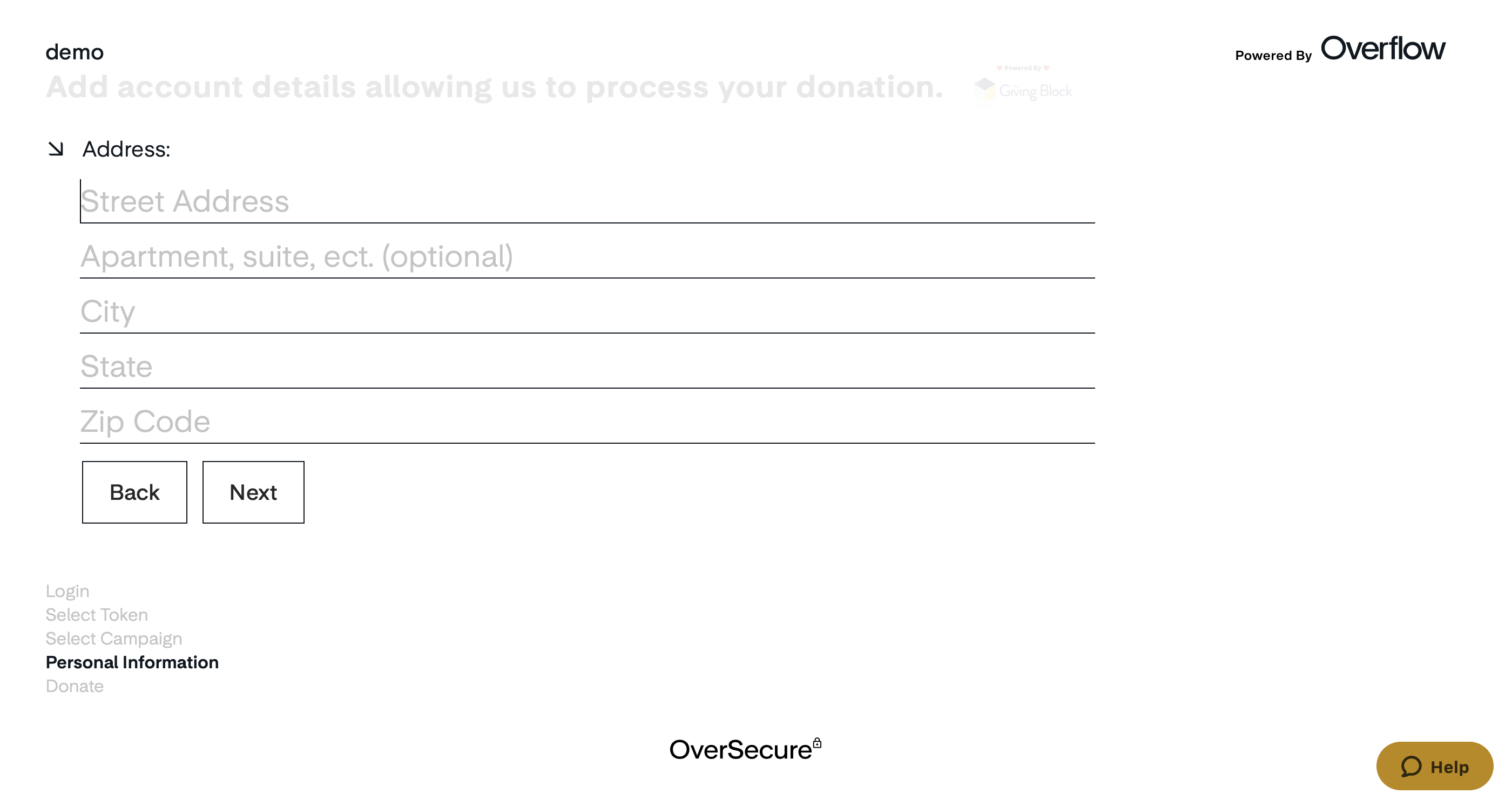 7. You can choose to make your donation anonymous if you wish.
8. ⚠️ IMPORTANT: The next step requires additional action! Once you complete your personal information, you'll be brought to a screen that provides an easy-to-use code that you will enter into your Crypto wallet to complete the donation. You must place this code into your Crypto wallet to complete the donation. This code contains the donation information you've selected including the type of coin, amount of coin, and the destination wallet ID. To complete the donation, you can:
A.) Copy the address by tapping "Copy Address"
B.) Copy the address directly to paste into your wallet.
C.) Or use the photo app on your phone to scan the QR code which will copy the address to your clipboard.
Then go into your crypto wallet to finish the donation.
9. You'll receive a reminder email as soon as you reach this page, as well as the day after if you have not completed the donation. The email will contain the above code so you can easily access it to complete the donation.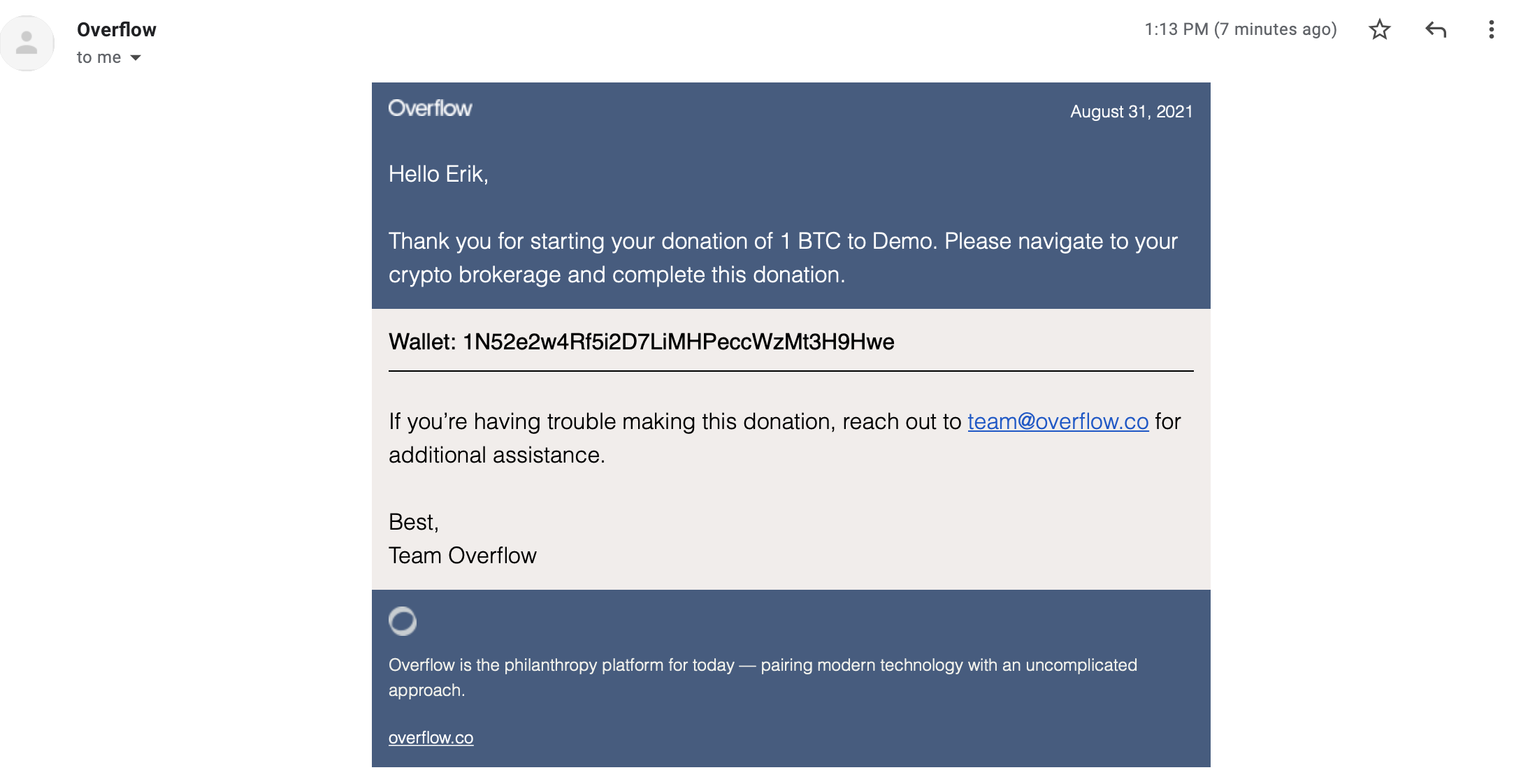 WHAT HAPPENS NEXT?
Once you enter the provided code into your Crypto wallet and finish the transaction, your donation is complete! 🎉


You'll see the gift leave your wallet almost immediately.


Upon receipt of your donation, the nonprofit will be able to send you a charitable acknowledgment letter for you to use for tax purposes.
Just like donating stocks with Overflow, it's really that easy.